See what everyone is saying about Marble Room!

May 9, 2018
Yelp reviewer Molly F. has high praise for the Marble Room: "The service was fantastic, the food was amazing and the building itself and the decor are stunning." Read more>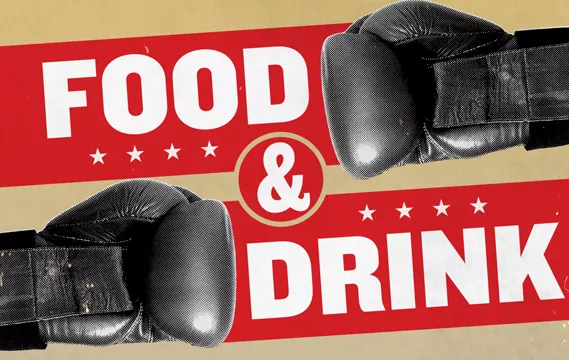 May 4, 2018
Marble Room wins Best New Restaurant. Read more>

May 1, 2018
You've seen this swanky new dining experience on Instagram, but our 2018 Best New Restaurant backs up the hype on the plate, too. Read more>
Cedi Osman loves Marble Room!

Watch 10 Clients have the Ultimate Cavs Experience and Get 10% off Cavs Merch
---

Art of the City Cleveland: A City Of Immigrants Shines Again on the Shores of Lake Erie (Video)
http://room5.trivago.com/things-to-do-in-cleveland-ohio
---
A new video from Cleveland.com


---
Unwrapping some great places for your company's holiday
http://www.crainscleveland.com/article/20171112/news/141976/unwrapping-some-great-places-your-companys-holiday-party
---
Marble Room Steaks and Raw Bar: Special-occasion treat in downtown Cleveland
http://www.cleveland.com/top-restaurants/index.ssf/2017/11/marble_room_steaks_and_raw_bar_special-occasion_treat_in_downtown_cleveland_review_photos.html
---
9-11-17
Marble Room Wows Cleveland, Ohio
http://markets.businessinsider.com/news/stocks/Marble-Room-Wows-Cleveland-Ohio-1002358033
---
First look: Marble Room restaurant celebrates early 20th century Cleveland architecture
http://www.cleveland.com/architecture/index.ssf/2017/09/first_look_marble_room_restaur.html#incart_river_home
---
9-7-17
BW Grad Opens Spectactular New Restaurant, Provides Career-boosting, student experience
https://www.bw.edu/news/2017/Fall/09-marble-room-sinito-dmc
---
9-5-17
See the Kardashian approved flowers at Cleveland's new Marble Room
http://www.cleveland19.com/story/36291334/see-the-kardashian-approved-flowers-at-clevelands-new-marble-room
---
National City Bank to Marble Room: A visual history of Cleveland's storied bank building
http://www.cleveland.com/entertainment/index.ssf/2017/09/post_179.html#incart_m-rpt-2
---
9-3-17
Marble Room brings back luster of classic Cleveland
http://www.crainscleveland.com/article/20170903/news/134211/marble-room-brings-back-luster-classic-cleveland-photo-gallery
---
9-1-17
Marble Room Steaks and Raw Bar opens in Cleveland: 31 pictures of the food, drinks, menu and decor
http://www.cleveland19.com/story/36273196/marble-room-steaks-and-raw-bar-opens-in-cleveland-31-pictures-of-the-food-drinks-menu-and-decor
---
New Cleveland restaurant opening in August in Garfield Building: Marble Room [Steaks] and Raw Bar
http://www.cleveland19.com/story/34686811/new-cleveland-restaurant-opening-in-may-in-garfield-building-marble-room-and-raw-bar
---
Development News: Steaks, craft cocktails, raw bar to be amid offerings in spectacular Marble Room
http://www.freshwatercleveland.com/devnews/MarbleRoom013017.aspx
---
---
Unwrapping some great places for your company's holiday
http://www.crainscleveland.com/article/20171112/news/141976/unwrapping-some-great-places-your-companys-holiday-party
---
Marble Room Steaks and Raw Bar: Special-occasion treat in downtown Cleveland
http://www.cleveland.com/top-restaurants/index.ssf/2017/11/marble_room_steaks_and_raw_bar_special-occasion_treat_in_downtown_cleveland_review_photos.html
---
9-11-17
Marble Room Wows Cleveland, Ohio
http://markets.businessinsider.com/news/stocks/Marble-Room-Wows-Cleveland-Ohio-1002358033
---
First look: Marble Room restaurant celebrates early 20th century Cleveland architecture
http://www.cleveland.com/architecture/index.ssf/2017/09/first_look_marble_room_restaur.html#incart_river_home
---
9-7-17
BW Grad Opens Spectactular New Restaurant, Provides Career-boosting, student experience
https://www.bw.edu/news/2017/Fall/09-marble-room-sinito-dmc
---
9-5-17
See the Kardashian approved flowers at Cleveland's new Marble Room
http://www.cleveland19.com/story/36291334/see-the-kardashian-approved-flowers-at-clevelands-new-marble-room
---
National City Bank to Marble Room: A visual history of Cleveland's storied bank building
http://www.cleveland.com/entertainment/index.ssf/2017/09/post_179.html#incart_m-rpt-2
---
9-3-17
Marble Room brings back luster of classic Cleveland
http://www.crainscleveland.com/article/20170903/news/134211/marble-room-brings-back-luster-classic-cleveland-photo-gallery
---
9-1-17
Marble Room Steaks and Raw Bar opens in Cleveland: 31 pictures of the food, drinks, menu and decor
http://www.cleveland19.com/story/36273196/marble-room-steaks-and-raw-bar-opens-in-cleveland-31-pictures-of-the-food-drinks-menu-and-decor
---
New Cleveland restaurant opening in August in Garfield Building: Marble Room [Steaks] and Raw Bar
http://www.cleveland19.com/story/34686811/new-cleveland-restaurant-opening-in-may-in-garfield-building-marble-room-and-raw-bar
---
Development News: Steaks, craft cocktails, raw bar to be amid offerings in spectacular Marble Room
http://www.freshwatercleveland.com/devnews/MarbleRoom013017.aspx
---