See what everyone is saying about Marble Room!

June 28, 2018
With four stars out of 124 reviews on Yelp, the steakhouse and sushi bar, which offers seafood and more, has proven to be a local favorite. Read more >

May 21, 2018
Totally creative transformations: Millennia Companies, Sandvick Architects, and Erbach-Waddell Architects formed the team behind the renovation of Marble Room Steak and Raw Bar within the Garfield Building's Guardian Bank hall. Their work earns a merit award for creative adaptation of a significant interior, while the restoration of the Garfield's exterior will also earn a façade renovation award. Read more>

May 9, 2018
Yelp reviewer Molly F. has high praise for the Marble Room: "The service was fantastic, the food was amazing and the building itself and the decor are stunning." Read more>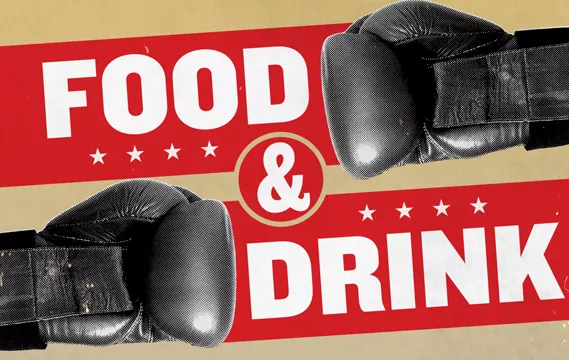 May 4, 2018
Marble Room wins Best New Restaurant. Read more>

May 1, 2018
You've seen this swanky new dining experience on Instagram, but our 2018 Best New Restaurant backs up the hype on the plate, too. Read more>
Cedi Osman loves Marble Room!

Watch 10 Clients have the Ultimate Cavs Experience and Get 10% off Cavs Merch
---

Art of the City Cleveland: A City Of Immigrants Shines Again on the Shores of Lake Erie (Video)
http://room5.trivago.com/things-to-do-in-cleveland-ohio
---
A new video from Cleveland.com


---
Unwrapping some great places for your company's holiday
http://www.crainscleveland.com/article/20171112/news/141976/unwrapping-some-great-places-your-companys-holiday-party
---
Marble Room Steaks and Raw Bar: Special-occasion treat in downtown Cleveland
http://www.cleveland.com/top-restaurants/index.ssf/2017/11/marble_room_steaks_and_raw_bar_special-occasion_treat_in_downtown_cleveland_review_photos.html
---
9-11-17
Marble Room Wows Cleveland, Ohio
http://markets.businessinsider.com/news/stocks/Marble-Room-Wows-Cleveland-Ohio-1002358033
---
First look: Marble Room restaurant celebrates early 20th century Cleveland architecture
http://www.cleveland.com/architecture/index.ssf/2017/09/first_look_marble_room_restaur.html#incart_river_home
---
9-7-17
BW Grad Opens Spectactular New Restaurant, Provides Career-boosting, student experience
https://www.bw.edu/news/2017/Fall/09-marble-room-sinito-dmc
---
9-5-17
See the Kardashian approved flowers at Cleveland's new Marble Room
http://www.cleveland19.com/story/36291334/see-the-kardashian-approved-flowers-at-clevelands-new-marble-room
---
National City Bank to Marble Room: A visual history of Cleveland's storied bank building
http://www.cleveland.com/entertainment/index.ssf/2017/09/post_179.html#incart_m-rpt-2
---
9-3-17
Marble Room brings back luster of classic Cleveland
http://www.crainscleveland.com/article/20170903/news/134211/marble-room-brings-back-luster-classic-cleveland-photo-gallery
---
9-1-17
Marble Room Steaks and Raw Bar opens in Cleveland: 31 pictures of the food, drinks, menu and decor
http://www.cleveland19.com/story/36273196/marble-room-steaks-and-raw-bar-opens-in-cleveland-31-pictures-of-the-food-drinks-menu-and-decor
---
New Cleveland restaurant opening in August in Garfield Building: Marble Room [Steaks] and Raw Bar
http://www.cleveland19.com/story/34686811/new-cleveland-restaurant-opening-in-may-in-garfield-building-marble-room-and-raw-bar
---
Development News: Steaks, craft cocktails, raw bar to be amid offerings in spectacular Marble Room
http://www.freshwatercleveland.com/devnews/MarbleRoom013017.aspx
---
---
Unwrapping some great places for your company's holiday
http://www.crainscleveland.com/article/20171112/news/141976/unwrapping-some-great-places-your-companys-holiday-party
---
Marble Room Steaks and Raw Bar: Special-occasion treat in downtown Cleveland
http://www.cleveland.com/top-restaurants/index.ssf/2017/11/marble_room_steaks_and_raw_bar_special-occasion_treat_in_downtown_cleveland_review_photos.html
---
9-11-17
Marble Room Wows Cleveland, Ohio
http://markets.businessinsider.com/news/stocks/Marble-Room-Wows-Cleveland-Ohio-1002358033
---
First look: Marble Room restaurant celebrates early 20th century Cleveland architecture
http://www.cleveland.com/architecture/index.ssf/2017/09/first_look_marble_room_restaur.html#incart_river_home
---
9-7-17
BW Grad Opens Spectactular New Restaurant, Provides Career-boosting, student experience
https://www.bw.edu/news/2017/Fall/09-marble-room-sinito-dmc
---
9-5-17
See the Kardashian approved flowers at Cleveland's new Marble Room
http://www.cleveland19.com/story/36291334/see-the-kardashian-approved-flowers-at-clevelands-new-marble-room
---
National City Bank to Marble Room: A visual history of Cleveland's storied bank building
http://www.cleveland.com/entertainment/index.ssf/2017/09/post_179.html#incart_m-rpt-2
---
9-3-17
Marble Room brings back luster of classic Cleveland
http://www.crainscleveland.com/article/20170903/news/134211/marble-room-brings-back-luster-classic-cleveland-photo-gallery
---
9-1-17
Marble Room Steaks and Raw Bar opens in Cleveland: 31 pictures of the food, drinks, menu and decor
http://www.cleveland19.com/story/36273196/marble-room-steaks-and-raw-bar-opens-in-cleveland-31-pictures-of-the-food-drinks-menu-and-decor
---
New Cleveland restaurant opening in August in Garfield Building: Marble Room [Steaks] and Raw Bar
http://www.cleveland19.com/story/34686811/new-cleveland-restaurant-opening-in-may-in-garfield-building-marble-room-and-raw-bar
---
Development News: Steaks, craft cocktails, raw bar to be amid offerings in spectacular Marble Room
http://www.freshwatercleveland.com/devnews/MarbleRoom013017.aspx
---